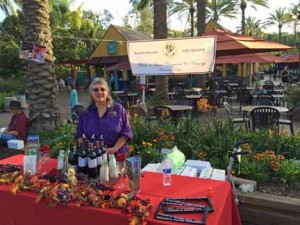 Woof'n Rose Winery is proud to participate  in many local events benefiting  service organizations and charities, such this wine pouring at  San Diego Zoo Food and Wine Celebration.  Contributions include winery presence and representation as well as wine and auction donations.
Please contact Marilyn@woofnrose.com regarding requests for event participation and donations.
Upcoming Events in 2017
2017 events for which Woof'n Rose Winery has already committed, please go to the individual event websites for more information on each event.
February 10 – Wine Pairing Dinner at Jereny's on the Hill Restaurant in Julian, for more information go to  Wine Pairing Dinner
April 30 – Wine and Food Festival, San Diego County Vintners Association annual event and fund raiser featuring only local winery members, at Bernardo Winery.
May 7 – Vintage Alpine at Summers Past near Flinn Springs on Business 80, sponsored by the Alpine Kiwanis, features local chefs, restaurants, wineries, and more.
June 17 – Annual Taste of Our Towne  featuring local wineries and restaurants, sponsored by the Poway Center for the Performing Arts.
More to come as the schedules are committed.