Woof'n Rose vineyards
were first planted in 1995 with a small block of Merlot. Since then Cabernet Franc was added (2003), Grenache Noir (2004), Petit Verdot and Alicante Bouschet (2009), Malbec and Cabernet Sauvignon (2010), Montepulciano (2013), and Carmenere (2015). The vineyards developed from what is called a landscaping project gone wrong, the first vines grew and the owners were hooked.
All of Woof'n Roses grapes are used by the winery to make estate designated wines. Very small lots of grapes from neighboring vineyards are also used to make additional Ramona Valley designated wines.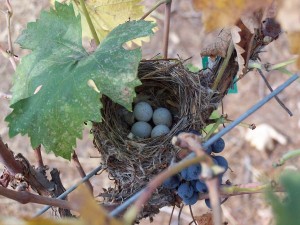 opens IMAGE file
opens IMAGE file
There are so many neat things to see in the vineyards and everything, including the overlooking views, changes from day to day.
While this looks like a mirror it is actually two Barn Owls getting ready to hunt gophers.