opens IMAGE file

Wine tasting at Woof'n Rose Winery
is on a sheltered outdoor 'Tasting Veranda' which overlooks the Woof'n Rose vineyards and the Ramona Valley with its newly planted vineyards. Surrounded by almost 180 degrees of mountain views, including Mt. Palomar, Vulcan Mountain, and the Cuyamacas, you can relax and enjoy conversing with the owners, Steve and Marilyn, who simply love talking about wine, vineyards, winemaking, dogs, roses, food, and anything related. You will taste wines made mostly from estate grown grapes, all from Ramona Valley grapes, and many of them award winners at prestigious wine competitions.
The Woof'n Rose Tasting Veranda is open any day of the week by appointment, and is normally open weekends, both Saturday and Sunday, from 11 am until 5 pm, however, even on weekends it is recommended that you call ahead just to be sure Steve and Marilyn are there to welcome you, and to get driving directions through Ramona's country roads.
You can call 760-788-4818 to make appointments, get directions, confirm that Woof'n Rose is open, or get any other information about the winery.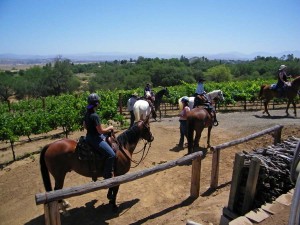 opens IMAGE file
In addition to vehicle traffic Woof'n Rose is also horse accessible and friendly.